Brigette Peterson | Age: 55 | Years in Gilbert: 25 | Occupation: N/A | Education: High school graduate | Immediate family: Husband, 1 daughter | Community/civic involvement: 5+ years Gilbert Council member, 1 year as vice mayor; 14+ years Gilbert Planning Commissioner including three years as chair/vice-chair; Gilbert Leadership Class 8 alumna' seven years Gilbert Leadership Board member, including one year as chair and now subcommittee volunteer. As a Gilbert Council member, served on Valley Metro/RPTA Board, several regional committees/boards and many local boards.
1. Compare/contrast your leadership style with outgoing Mayor Jenn Daniels.
Mayor Daniels and I are community minded and love to talk about all things Gilbert. We both value input from stakeholders and with my 14 years of experience on Planning Commission and 5+ year on Town Council I developed relationships to best understand who to bring to the table for those discussions. I intend to serve as a full-time Mayor!
2. Small businesses in town will continue to suffer from the COVID-19 economic fallout for the foreseeable future, what else can the town do to help them?
I would like to see the town use the Cares Act funds to develop business grants for the small business owners. I would recommend the Economic Development department create a program on social media to assist small businesses such as a virtual ribbon cuttings, spotlights on re-openings or special events for those businesses.
3. Name your top three priorities:
2020 has seen many changes in our town, state and country. My top priority will be working with local business leaders to ensure our economic recovery and stability. Continue the work being done on transportation, moving people and products is a high priority. Continue to work toward Gilbert being a diverse and inclusive community where everyone feels welcome.
4. Should the economic fallout of COVID-19 worsen for town finances, what measures would you recommend avoid cuts/disruptions in services?
 Since 2012, we've paid off $67 million in voter approved bonds before they were due, saving taxpayers millions. It's one of the things I'm most proud of as a member of the Town Council. Town management has done an excellent job with a tiered level approach to the 2020-2021 budget, if financial milestones aren't met then projects don't move forward.
5. Should Cactus Yards be sold to a private operator? Why or why not?
I'm always open to this discussion. Cactus Yards provides fields into the Town inventory that are currently being used by sports teams. If we sell Cactus Yards, our inventory shrinks by that number of fields and we cannot provide the playing time for teams (big complaint from residents). If we try to replace those fields, that would cost approximately $10M.
6. What should the town do with recycling since it no longer generates revenue?
Our residents are passionate about recycling, garbage and bulk pickup. Prior to COVID-19 residents were surveyed and said they'd agree to pay a little more for recycling. Today that answer might be different. It disappoints me to think we might need to suspend recycle service, at least for a short period and see how the world-wide recycle business adjusts.
7.  What is your assessment of the relationship between Gilbert Police and the community and what changes, if any, would you advocate?
 Without a doubt, we have one of the best police departments in the country and a great relationship with our residents due to community policing. I have attended almost every community event held between GPD and residents and the interactions are amazing. Team Gilbert can always work to improve and should never rest on what we currently have in place.
8. Do you think the town's "City of the Future Initiative" does enough to ensure Gilbert continues to thrive?
This initiative is a great launching pad and allows us to pivot as the climate in the Town changes. When looking at the future of Gilbert, not one specific thing will have the greatest impact. The Town is continually evolving and we need to be ready to adjust, the most important thing we can do is prepare for the future.
9. Name three things you would fix or improve with town government.
We've made great progress in transparency but we can always make improvements, for example how we explain planning & zoning matters. Continue conservative financial planning for the future, we've done great but we can always do better. Find ways to reduce processes within government, always look for ways to streamline everything we do.
10. Name three things the town does right. Created a 30-year plan that details all town inventory, age, cost, when to plan for repair and replacement, it's unlike anything any community has created. Since 2012, the Town has paid off $67 million in voter approved bonds early, saving taxpayers millions in interest. Lowered the secondary property tax rate from $1.25 to $0.99.
---
Peterson: I've been, will be part of our successes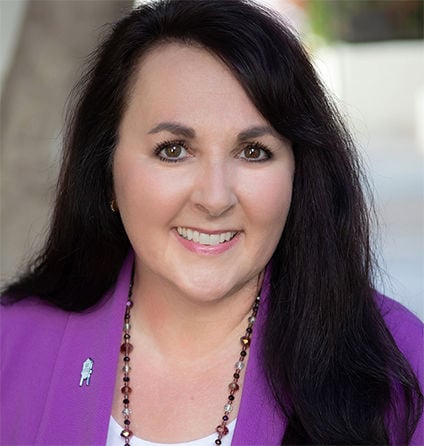 Brigette Peterson | GSN Guest Writer
My vision for Gilbert has remained steady for the past two decades through my active participation in numerous planning projects and hours of discussion with residents.
 Gilbert is and will remain a safe, healthy and vibrant town while embracing our heritage. A vibrant business climate is essential, thriving educational choices, healthy environmental practices, with diverse recreational opportunities while following fiscally sustainable goals.
 The Town of Gilbert's leadership has focused on the future and its build-out since the 1990's. This thoughtfulness has set solid groundwork to get us where we are today.
 The leadership has had the foresight to make important land acquisitions, build a strong pro-business climate and increased transparency including the use of a data portal known as Alex. Alex provides statistics on Gilbert's safety, finances, growth and development which provides variable information to make future decisions.
 Gilbert is also the home of three of the Top 10 Schools Districts in Arizona – Gilbert Public, Higley Unified and Chandler Unified.
This thriving education base has led businesses such as the world headquarters for Isagenix International, Deloitte, Footprint and Silent-Aire just to name a few, to locate in Gilbert creating a viable future for the community.
We have set the base to build upon for additional high wage jobs to call Gilbert home, higher education opportunities to become available, development of arts and culture and diversity growth as we reach build-out.
 We've achieved this continuum of success by being aware of shifting trends and development conditions while knowing when and how it's best to pivot while maintaining our fiscal policies.
I've already been an integral part of the current successes of this community and I will continue on that path as Gilbert moves toward build-out.
I strive to work towards streamline processes while exceeding customer experience for our Gilbert residents and the community.
For example, I just spent the last 18 months working to refresh of the Land Development Code; an effort that reduces regulations and makes doing business in Gilbert easier. I'm a collaborative leader and I work to ensure all parties are brought to the table especially with important and controversial matters.
 I will listen first to learn what the community wants to see as we continue on this journey. The Town is data and technology driven which is also one of my strong points and I intend to build upon that for our future decisions.
As we celebrate 100 years as a Town, we can definitely say we've come a long way from the being the Hay Shipping Capital of the World!
The next 100 years will expand upon our historical past and the amazing future milestones that will open us up to great possibilities!